Our staff is the heart of Kākoʻo ʻŌiwi. They are passionate about working hard to make sure that our mission stays at the forefront of what we do.
Our staff hosts educational visits for local schools, offers fresh produce at our farm stand, hosts community workdays where volunteers and visitors can learn about agriculture, and even offers cultural workshops for those interested in learning more about our heritage.
JONATHAN KANEKOA KUKEA SHULTZ
Executive Director
ALI'I MINER
Director of Conservation
NICK REPPUN
Farmer Specialist
KAHIAU WALLACE
Education Specialist
DONALD GENTZLER
Director of Operations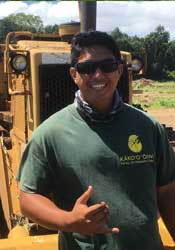 BRANDON BUMANGLAG
Operations Specialist
JAMES "GUS" ROBERTSON
Farm and Operations Specialist
MAHEALANI BOTELHO
Loʻi Manager
IOKEPA MINER
Conservation Specialist
JASON LOWE
Farm Specialist
MONET AGAE
Farm Specialist
MOSESE TUBERI
Farm Specialist
MELISSA MAU
Conservation Specialist and Volunteer Coordinator
MICHELLE NAKAYAMA
Contracted Director of Fiscal Operations
GINA CAROLL
HapaiPu Program Manager
KIMMY OI
Chef and Farm Specialist
Our new Opu nui program, under the guidance of our two chefs on staff, will be holding workshops and classes that focus on local Hawaiian cuisine and the basics of preparation of contemporary Hawaiian food.
"Mahalo nui loa e Hui Kākoʻo ʻŌiwi ma He'eia. This was the first time I have ever been to this kahi. It was an amazing experience and I made some awesome connections. I hope to bring my haumana for huaka'i this coming school year. Mahalo piha!"